A-Z! the norwegian music scene uncovered!

ABERDEAN - new band from Moss with stunning vocals and a dynamic sound. Will play Rockefeller 16 November as part of the annual NM in Rock.
AI PHOENIX - slow music with references to Mazzy Star and This Mortal Coil. Now recording their next album due January 2002.
ALOG - duo from Tromsoe mixing postrock, jazz, techno and minimalism.
APOTYGMA BERZERK - a delirious combination of modern trance and EBM. New album will be out on the 18th of February 2002.

BILLION DOLLAR MISSION - a blend between rock and hardcore. Somewhat similar to Foo Fighters and Fugazi.
BRONCO BUSTERS - noisy and cathy poppunk-girlband from Oslo influenced by bands like Ramones and Shonen Knife.
CATO SALSA EXPERIENCE - raw and intense pre-punk like it was meant to be!
CIRCULAR - toned down chill out music (but at the same time experimental) made by two artists living in Bergen. Contains references to Biosphere, Aphex Twin and Autechre.
DARLING DAIZY - punkrock band signed to Bratville Records.
EMPEROR - legendary black metal. Three albums out.
ENSLAVED - raw viking-metal! New album out 19.11.01 (my birthday!! make sure to send me a birthday present..)
FUZZFISH - alternative-indie-rock band from Bergen.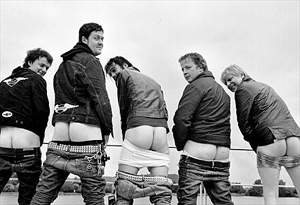 ICON OF COIL - hard and extremely club-friendly electro/ebm.
JAGA JAZZIST - one of the most popular bands who mix jazz and modern music here in Norway.
KINGS OF CONVENIENCE - two voices and guitars. Think Simon & Garfunkel. You'll be close.
LOBOTOMIZED TEENAGERS - Ramones-inspired punkrock/hardcore from Aalesund.
LASSE MARHAUG - beautiful headfuck of noise and crazy electronics. Still one head above other noise artists.
MICROMARS - cheesy alternative pop (whatever).
MOTION CONTROL - sexy melodies over erotic, funky beats with inspiration from Detroit techno, 70s disco and some European minimalism.
PALACE OF PLEASURE - dub, ambient, electronica and more!! Pretty cool if you ask me.
REMINGTON SUPER 60 - a little minimalistic pop group from Fredrikstad. Songs with acoustic guitars surrounded by cheap space sounds.
RING - experimental folk/country/pop, a bit "out-there".
SENTINEL - metal band inspired by Moonspell, Paradise Lost and Metallica. No record deal yet. 3 demos out.
ST. THOMAS - Norway's own Neil Young/Will Oldham. Now signed to Drag City!
STUNTBIKE - laidback, melodic indie-pop (rock?). Often compared to bands like Slint and Codeine.
THULSA DOOM - super-badass no-bullshit Stoner Rock!!
TIDFALL - extreme metal. Now signed to Nuclear Blast!!
TURBONEGRO - deathpunk superstars. Now sadly defunct.
XPLODING PLASTIX - drum'n'bass flavoured jazz-funk.
ZEENON - kickass female experimental, industrial metal!!
ZYKLON - extreme metal, very anti-religious and apocalyptic.