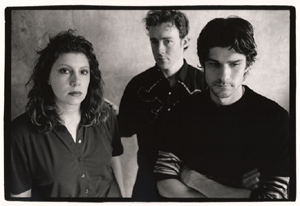 We are Mimi Parker (drums & vocals), Alan Sparhawk (guitar & vocals) and Zak Sally (bass). Alan and Mimi met in school when they were 9 years old and now they have been married for 10 years. We met Zak in college over 12 years ago. We started the band in 93.
John Nichols used to be a part of the band, but left. John did not like touring. He was very young.
I think the longer a band is around, more people who would like what you do will hear about them. We have gained most of our fans by word of mouth, so it has taken time. People are interested more now in different kinds of music. A few years ago it was all rock and techno/dance.
We take our music very seriously. We like what we do and find satisfaction in making it. It is important, but some day it will be over and there will be something else. We have been very lucky to find a little success, so we don't assume it will always be there.
Touring has been very good for us. We enjoy playing for people and it is nice to see the world and meet so many people. Being in a van for 6-10 hours every day is not so fun. You have to find new things to make travel interesting. We are usually open to any kind of music. Too many slow bands in one night can be hard on the audience.
Our first few years of touring were in front of unappreciative crowds most of the time. We have had beer cups thrown at us, and been called all kinds of names, but it is more amusing to us than offensive.
And, by the way, King Kong is not dead... He remains in our hearts. Forever.